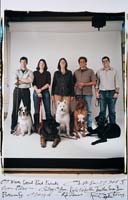 The hardest thing to photograph is a black dog. Forgive the word thing. I have a water bowl for dogs and I shld have a menu of treats. But I fall behind in my gourmet dog shopping, even though there is a shoppe nearby that specializes in home-made dog biscuits.
I love dogs. I loved our greyhound Moozer, who we got when he retired from the track. And my favorite portrait of Harvey is of him holding the urn w/ Moozer's ashes. I tolerated our next greyhound, but he was a poor substitute for Moozer and I cdn't help myself from making comparisons. And Highland ate our window sills and the wooden parts of my mother in law's sofa, ours then and now, two weeks before Isaac's bar mitzvah. Instigating a wild search for carpenters and artisans. Off Highland went to a family w/ large yards.
The black dog takes/ needs a lot of light. I have a special light that I have labeled 'for black dogs" that I use for brown dogs too. It took me a long time to learn that people who come w/ black dogs shouldn't wear dark pants. Their dogs like to be near them, sometimes, at their feet, and I need some contrast. A black dog yawning so her/his pink tongue shows is good , but that has only happened twice.
I pray that the dog will look at the camera, and sometimes I dare to call the dog by name. But that can be dangerous. Most dogs will dart toward the camera and me when I call out her/his name. Then we have to start all over again.
The seamless in my studio is tough on dogs. They slip. It isn't their fault. Even seriously well-trained dogs have trouble . I bought two little rugs, one in a zebra pattern and one in a leopard pattern, for dogs to sit on. But the rugs are intrusive and mine, so they don't work w/ most families. or most dogs. In one portrait the dog got on the bench w/ the mom and dad and the daughter sat on the rug meant for the dog.
I have become very fond of dog leashes. I like the way the leash, especially if it is red or yellow, dangles loosely and makes a shape along the owner to the dog.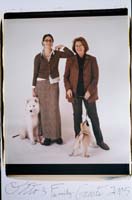 I'm not sure which is the most photogenic breed for me. The most popular breed is definitely the lab. The black or brown lab. You can decide which breed my camera seems to like the best.
When you look at these portraits have fun imagining the scenario that preceded the portrait. The coaxing of the dog, the slipping of the dog, the almost choking of the dog to get her/him to hold her/his head up.
Some dogs are so wise, they are almost people. Alex, to whom my pal Philip Greenspun belongs, is one of these dogs. And some dogs are so mellow I am in awe of their owners and grateful that the session is smooth.
All dogs are smart. I have to make the portrait in just two exposures. Maybe three. Never four. They learn so fast that when they stand w/ their family on the white seamless and I go behind the camera and fiddle around, then fiddle beside the camera, that all the lights are going to go off. And they know that they hate that.
See Page 1 - 2 - 3 - 4 - 5 - 6
See Page 1 - 2 - 3 - 4 - 5 - 6
Elsa collaborated with Nettie Lagace to make these pages.
---