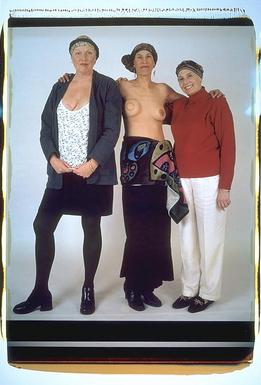 Elsa If you can do it, but if you can't do it, it would be fine. But it would be good if one person did it.
Libby I'm too modest.
Carol Well, I'm pretty modest, but what the hell?
Elsa Okay. Well, let's see.
Carol I got breast cancer. Every other doctor and their brother has seen my boobs.
Debbie Have you ever seen reconstruction?
Carol Here it is.
Debbie This is what they did. This is incredible, what they did.
Carol So, this part is just coming back.
Debbie So she has a scar back here.
Carol And this was all puckered when I first came out of surgery. I thought, oh, my God, what has he done? It was all like puckered up, so it's come down a lot, and what's happened is, see this cord? I have this cord from my arm.
Debbie Right. That's incredible.
Carol But it's going away. It's much less than it used to be. It's like half the size of my armpit. This is my regular arm pit, this one. So it kind of comes through here, but it's getting better.
Elsa So now, did you have reconstruction too?
Debbie No.
Libby Mastectomy.
Carol Reconstruction.
Debbie Lumpectomy.
Elsa So, Libby, are you wearing a padded bra?
Libby I wear a prosthesis.
Carol It's Okay. I can do this because, see, it's not real yet. It doesn't have a nipple yet.
Debbie Is it all---is it all like numb?
Carol Yeah. But you can feel. It's like a bag. But it's a bag filled with liquid, so that when you hit a high spot, doesn't it feel like there's water inside? Feel this bump, right here.
Debbie Oh, God!
Carol It's weird. It's really weird. The first time I felt it, it was like, eeuw! What is that thing? So it's a little strange, still.
Elsa That isn't the old breast skin, is it?
Carol Yeah. It's my skin.
Debbie It's her skin. The only thing that isn't hers is where the nipple was.
Carol This is from my back. This is from this scar here.
Elsa I see.
Carol This is the back skin. And then they put an implant, and they took the muscle from here---
Elsa I see. I see.
Carol ---and they tunnel it under, and flap it up in front. It's amazing what they can do.
Debbie How weird.
Elsa So, what is yours, Debbie?
Debbie It's a different scar.
Elsa I mean, that's your own breast except for the little---
Debbie That's right.
Elsa Well, that's nothing!
Debbie It's nothing, right. It's just a scar.
Elsa Just unbutton your shirt.
Debbie Okay. Now, my lumpectomy scar's here.
Elsa Good. The scars are good. All right. Take off, take off your undershirt.
Carol Whew. The first time my boob is out in public.
Elsa All right. Let's go.
Carol Strange. Now, it's starting to look really round. Tell me, men design these. No offense, Bobby, but. . . . Strange. My new boob. Very strange. I think---Today was like the first day that I thought about my real one being gone.
Debbie Oh.
Carol It's like, this is just, I mean, I know the outside's the same. But it's not really shaped the same. It was a pretty breast.
---