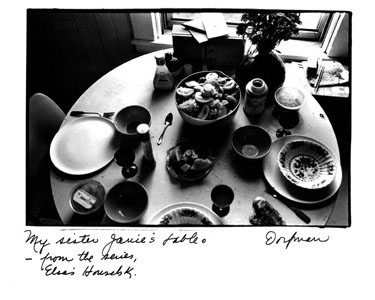 There are seasonal visits from certain friends that I can count on. Though I don't know exactly when, I can assume that Creeley, Ginsberg, the Meaders, the Gordons will be here every Five months or so. I like the feeling. It gives the year a measure. The conversations make me pull things together. What have you done since I was here last? What do all my hours and all my lists of errands add up to anyhow? Here what's going on elsewhere. There's a family feeling to these visits that's essential to me. It's clear that I need to/like to [almost compulsively] recreate the idea/feeling/warmth of a family -- all those cousins I knew when I was growing up. At 19 Flagg Street, I've made a family of people I can talk to. Understand. I have a certain ritual when these friends from out of town arrive. I buy strawberries and shrimp, cheeses. Wine. Cider. They're the most celebratory. Easiest to put together. Most special.
There was a time when I loved to cook and actually collected recipes from the New York Times and Woman's Day, and tried them. Even hunted for exotic ingredients. But once I began to spend a lot of time in the darkroom, I began to hate cooking. It is too much like developing film and making prints. In front of a sink. Following directions. Measuring. Waiting. Stirring. Using a million utensils. Now when I have friends over, I buy food that takes very little preparation. All I have to do is unwrap it, or at most, put it under the broiler with a little paprika. I order it by phone and have it delivered.
From time to time I buy feast dishes from a Middle Eastern restaurant in Central Square. I go down there with my pots and bowls and they fill them up. At first, I felt a little self-conscious about not spending hours chopping, shopping, and preparing. It robs a conversation if when people begin to rave about your cous cous, you say you bought it the hour before. Aside from not liking to cook, I get thrown by all the confusion of preparing a meal for children and adults, from having so little practice, I suppose. When it's mealtime and the Meader, Power, or Gordon children converge on the kitchen, I get out my camera. While I sit in the corner and take pictures of it all, the parents, Nancy/Abbott, Janie/John, Gail/Norman calmly take over. It's the only way it would work.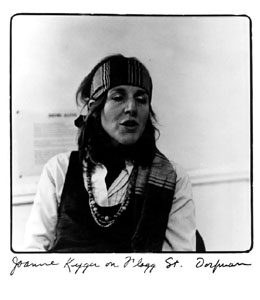 If I did everything that Mark Mirsky urged me to do, I'd have a million contact prints. He is my supporter. Go take pictures on Blue Hill Avenue. The Boston Army base. Nearby Paragon Park. The St. Patrick's Day Parade. Olmsted's Franklin Park. Three-decker Boston architecture. Rabbi Soleveychick. Mark calls me up from New York, where he lives: Have you done it yet? You gotta get it done. Did you call so-and-so yet'!
Mark makes me feel that taking craft seriously is part of a beautiful tradition. It's what you do. Unfailingly, he responds to what he sees, what he likes. Discovers images I have overlooked. He always reports back to me the nice things people have said about my work and calms me down when I get paranoid. When I think, 'Ah, what I need to relax/distract myself is a good argument with someone.'
When Gail Mazur and I talk about the difficulty of getting the work done, I always end up saying, 'If only I could be like Mark.' He is so uncluttered, unfettered in his head.
Mark's father was a politician and Mark has an unerring instinct for dealing with people. Like my mother, he has his axioms: 'Don't get mad if it won't be useful. Don't be afraid of using intimate details in your work: it's all materiaL Always help your friends; push their work. Always publish in little magazines.'
The fact of my camera has by itself created occasions. Nice afternoons when someone calls to say hello. Surprises. It's an opener to people I don't know, know only by their work, will see only when they come through Cambridge/Boston. None of it or little of it would happen if my work didn't exist, if people didn't know it, like it, want to see some of it. The stopping by is random; there isn't any continuity or relationship involved. But it rounds out the edges, makes me feel active; in a way, enlarges the time.
The first and only time I met Joanne Kyger she came over with Peter Warshaw and Sidney Goldfarb. She and Peter had just come back from Puerto Rico, she read a long prose poem from her journal; Peter showed us the slides he had taken of monkeys.
In October 1972, Lawrence Ferlinghetti came to Boston to read at Tufts. We went to the Grolier Book Shop, where he talked to Gordon Cairnie, the proprietor, about life at City Lights in San Francisco and the woes of the small bookseller. They posed for pictures in front of Cairnie's bookcases of first editions. Gerd Stern came over. We went to the Walker Evans show at the Museum of Fine Arts; it was the last day and the place was mobbed. There were huge murals of some of the images. One, a big stuffed chair with an avocado plant growing high above it. I had my camera. The possibilities were irresistible. Lawrence arranged himself in front of the picture in such a way that it looked as if he was sitting in the chair, if you looked at him quickly. No one in the museum paid any attention to us. They walked right by as we were laughing and posing, taking pictures of ourselves in front of pictures.
This was the first time I had met Ferlinghetti, though I knew his work well and had heard about him for years from Creeley and Ginsberg. He knew my work and had seen some of it at Bob's and Allen's house and in various little magazines. So it was like two distant cousins finally meeting each other. He had with him a copy of his eight-year-old son Lorenzo's book, The illustrated Wilfred Funk, which City Lights had just brought out. He showed it to everyone, read from it. He is very serious, proud of his work, and very polite. Soothing almost.
Next: Robert Creeley