Interview with Barbara Montefalcone
original Italian | English translation
---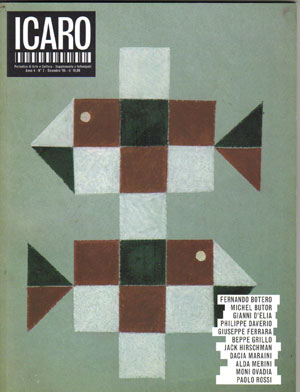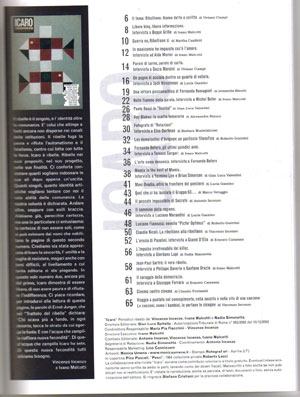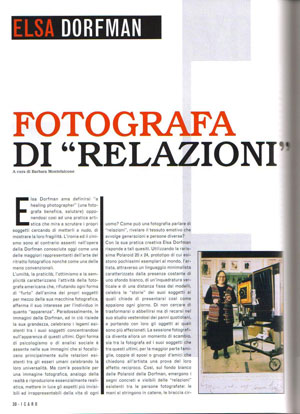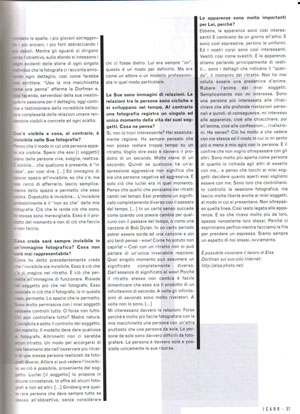 original Italian
ELSA DORFMAN: FOTOGRAFA DI "RELAZIONI"
Elsa Dorfman ama definirsi "a healing photographer" (una fotografa benefica, salutare) opponendosi cosl ad una pratica artistica che mira a scrutare i propri soggetti cercando di metterli a nudo, di mostrare la loro fragilit`. L'ironia ed il cinismo sono al contrario assenti nell'opera della Dorfman conosciuta oggi come una delle maggiori rappresentanti dell'arte del ritratto fotografico nonchi come una delle meno convenzionali.
L'umilt`, la praticit`, l'ottimismo e la semplicit` caratterizzano l'attivit` della fotografa americana che, rifiutando ogni forma di "furto" dell'anima dei propri soggetti per mezzo della sua macchina fotografica, afferma il suo interesse per l'individuo in quanto "apparenza". Paradossalmente, le immagini della Dorfman, ed in cir risiede la sua grandezza, celebrano i legami esistenti tra i suoi soggetti concentrandosi sull'apparenza di questi ultimi. Ogni forma di psicologismo o di analisi sociale h assente nelle sue immagini che si focalizzano principalmente sulle relazioni esistenti tra gli esseri umani celebrando la loro universalit`. Ma com'h possibile per un' immagine fotografica, analogo della realt` e riproduzione essenzialmente realistica, mettere in luce gli aspetti piy invisibili ed irrappresentabili della vita di ogni uomo? Come pur una fotografia parlare di "relazioni", rivelare il tessuto emotivo che avvolge generazioni e persone diverse?
Con la sua pratica creativa Elsa Dorfman risponde a tali quesiti. Utilizzando la rarissima Polaroid 20 x 24, prototipo di cui esistono pochissimi esemplari al mondo, l'artista, attraverso un linguaggio minimalista caratterizzato dalla presenza costante di uno sfondo bianco, di un'inquadratura verticale e di una distanza fissa dai modelli, celebra le "storie" dei suoi soggetti ai quali chiede di presentarsi cosl come appaiono ogni giorno. Di non cercare di trasformarsi o abbellirsi ma di recarsi nel suo studio vestendosi dei panni quotidiani, e portando con loro gli oggetti ai quali sono piy affezionati. La sessione fotografica diventa allora un momento di scambio, sia tra la fotografa ed i suoi soggetti che tra questi ultimi, per la maggior parte famiglie, coppie di sposi o gruppi d'amici che chiedono all'artista una prova del loro affetto reciproco. Cosl, sul fondo bianco delle Polaroid della Dorfman, emergono i segni concreti e visibili delle "relazioni" esistenti tra la persone fotografate: le mani si stringono in catene, le braccia circondano le spalle, i piy giovani sorreggendo i piy anziani, i piy forti abbracciando i piy deboli. Mentre gli sguardi si dirigono verso l'obiettivo, sullo sfondo si intessono i segni evidenti delle storie di ogni singolo individuo che la fotografa ci racconta annotando ogni dettaglio, cosl come farebbe uno scrittore. "Uso la mia macchinetta come una penna" afferma la Dorfman e, cosl facendo, servendosi della sua inestinguibile passione per il dettaglio, oggi continua a testimoniare della incredibile bellezza e complessit` delle relazioni umane rendendole visibili e concrete ad ogni scatto.
1. Cos'h visibile e cosa, al contrario, h invisibile nelle sue fotografie?
Penso che il modo in cui una persona appare sia visibile. Spero che essi [i soggetti] siano delle persone vive, sveglie, reattive. H visibile che qualcuno h presente, h "in casa", per cosi dire. [] Ed immagino di lasciar spazio all'invisibile, so che c'h ma non cerco di afferrarlo, lascio semplicemente dello spazio e permetto che esso esista. Dopotutto h invisibile L'invisibile probabilmente h il "non so che" delle mie fotografie. Cir che le rende cir che sono. Io stessa sono meravigliata. Esso h il prodotto del momento e non di cir che faccio o non faccio.
2. Cosa crede sar` sempre invisibile in un'immagine fotografica? Cosa non sar` mai rappresentabile? Come ho detto precedentemente credo che l'invisibile sia invisibile. Esso h cir che c'h di magico nel ritratto. H cir che permette all'immagine di funzionare. Risiede nel soggetto piy che nel fotografo. Esso consiste in cir che il fotografo, io in questo caso, permette. Lo spazio che io permetto. Sono molto permissiva con i miei soggetti sebbene controlli tutto. O forse non tutto. Chi pur controllare tutto? Madre natura. L'invisibile h sotto il controllo del soggetto, del modello. Il modello deve dare qualcosa al fotografo. Altrimenti non ci sarebbe alcun ritratto. Un modo per accorgersi di tale fenomeno sta nell'osservare piy ritratti di una stessa persona realizzati da fotografi diversi. Allora si pur vedere l'invisibile, se cir h possibile, proveniente dal soggetto. Lui/lei [il soggetto] lo propone in alcune circostanze, lo offre ad alcuni fotografi e non ad altri. [] Ginsberg era quella rara persona che dava sempre tutto se stesso all'obbiettivo, senza considerare chi ci fosse dietro. Lui era sempre "on", questo h un modo per definirlo. Ma era come un attore o un modello professionista in quel modo particolare.
3. Le sue sono immagini di relazioni. Le relazioni tra le persone sono cicliche e si sviluppano nel tempo. Al contrario una fotografia registra un singolo ed unico momento della vita dei suoi soggetti. Cosa ne pensa?
Si, non lo trovi interessante? Hai assolutamente ragione. Ho sempre pensato che non posso restare troppo tempo su un ritratto. Voglio dire esso h davvero il prodotto di un secondo. Molto meno di un secondo. Quindi se qualcuno ha un'espressione aggressiva non significa che sia una persona negativa ed aggressiva. H solo cir che lui/lei era in quel momento. Penso che quello che pensiamo dei ritratti cambi nel tempo. Essi prendono un significato completamente diverso con il passare del tempo. [] In un certo senso succede come quando una poesia cambia per qualcuno con il passare del tempo, o come una canzone di Bob Dylan. In un certo periodo potrei essere sorda ad una canzone e poi piy tardi penso - wow! Come ho potuto non capirla! - Cosl con un ritratto non si pur parlare di un'unica invariabile reazione. Quel singolo momento pur assumere un significato completamente diverso. Dall'assenza di significato allo wow! Poichi il ritratto stesso non cambia h facile dimenticare che esso sia il prodotto di un infinitesimo di secondo. A volte gli infinitesimi di secondo sono molto rivelatori. A volte non lo sono. [...]
Mi interessano davvero le relazioni. Forse perchi h molto piy facile fotografare con la mia macchinetta una persona con un'altra che una persona da sola. Le persone da sole sono davvero difficili da fotografare. La persona h davvero sola e possiede unicamente le sue risorse.
4. Le apparenze sono molto importanti per lei. Perchi? Ebbene, le apparenze sono cosl interessanti! E cambiano da un giorno all'altro. E sono cosl espressive, persino le uniformi. Ed i nostri corpi sono cosl interessanti. Vestiti cosi come svestiti. E le apparenze, stiamo parlando principalmente di vestitisono i dettagli che indicano il "quando", il momento del ritratto. Non ho mai voluto essere una predatrice d'anime. Rubare l'anima dei miei soggetti. Semplicemente non mi interessa. Sono una persona piy interessata alle chiacchiere che alle profonde rivelazioni personali e quindi, di conseguenza, mi interesso alle apparenze, cioh alle chiacchiere, poi all'anima, cioh alle confessioni rivelazioni. Ha senso? Cir ha molto a che vedere con me stessa ed il modo in cui io mi sento piy o meno a mio agio con le persone. H il confine che non voglio oltrepassare con gli altri. Sono molto piy aperta come persona di quanto io richieda agli altri di esserlo con me e penso che tocchi ai miei soggetti decidere quanto aperti essi vogliano essere con me. Sono loro che controllano. Io controllo la sessione fotografica ma lascio molto libert` anche a miei soggetti, al modo in cui si presentano. Non oltrepasso quella linea. Cosl resto legata alle apparenze. E so che ricevo molto piy da loro, spesso nonostante loro stessi. Perchi ci esprimiamo perfino mentre facciamo la fila per prendere un espresso. Siamo sempre un aspetto di noi stessi, ovviamente.
E possibilie visionare il lavoro di Elsa Dorfman sul suo sito Internet: http://elsadorfman.com/
English Translation
Elsa Dorfman: Photographer of "Relationships"

Disengagement, practicality, optimism and simplicity characterize Dorfman's work. She does not attempt to do "soul catching" by using her camera, but instead affirms her interest in the individual as "appearance". Paradoxically, Dorfman's images reveal her sitters' essence by focusing on their appearance, on the history their clothes tell under her eyes. This is her greatness. She doesn

But how can a photograph, that is supposed to be the analogue of reality and a realistic reproduction, represent a life's most invisible and unrepresentable aspects? How can a photograph talk about "relationships", how can it unveil the emotional tissue embracing different generations and people?

Through her creative practice, Dorfman answers these questions. Using the extremely rare Polaroid 24x24 (a prototype of which there are just a few examples worldwide) the artist celebrates the "stories" of her sitters through a minimal language characterized by a white background, a vertical frame and a fixed distance from her models. Moreover, she asks them to look as they do usually: they don't have to transform themselves but they have to meet her wearing their favourite clothes and bringing their favourite objects. The photographic session thus turns into a moment of mutual exchange both between Dorfman and her subjects, who are mainly families, couples or friends asking the photographer for a "proof" of their mutual affection.

Thus, from the white background of her photographs, the concrete and visible signs of the sitters' relationships emerge: hands holding in chains, arms surrounding shoulders, the younger holding the older, the stronger embracing the weaker. While they all stare at the camera, down there, on the white background, the stories of every single person interweave. Dorfman tells us these stories noting any detail as much as a writer would do: "I use my camera like a pen" she states. Using her inextinguishable passion for details, she continues to testify to the incredible beauty and complexity of human relations, making them concrete and visible in every shot.

1. What do you think is visible in your pictures and what is invisible?

HMMMMM. WELL I THINK HOW THE PERSON LOOKS IS VISIBLE. I HOPE THAT THEY ARE A PERSON, ALIVE, ALERT, RESPONSIVE IS VISIBLE....THAT SOMEONE IS HOME SO TO SPEAK. OR EVEN IF THEY ARE DISAFFECTED, THAT THEY ARE DISAFFECTED W/ ELAN.......I MEAN IT IS REAL. WITH MORE THAN ONE PERSON IN THE PORTRAIT, I HOPE IT LOOKS LIKE THEY ARE RELATED. BELONG TOGETHER. LIKE EACHOTHER IN SOME WAY.....FROM ANNOYED TO TOTALLY LOVED AND BELOVED. THE GAMUT. AND I GUESS I LEAVE ROOM FOR THE INVISIBLE AND I KNOW IT IS THERE BUT DON'T TRY TO CATCH IT, I JUST GIVE IT SPACE AND ALLOW IT. IT'S INVISIBLE AFTER ALL... THE INVISIBLE IS PROBABLY THE JENESAISQUOI OF MY PICTURES. WHAT MAKES THEM WHAT THEY ARE. EVEN I AM AMAZED. IT IS THE PART THAT HAPPENS FROM THE OCCASION NOT FROM WHAT I DO. OR DON'T DO.

2. What do you think will always be invisible in a picture, I mean, what one will never be able to represent?

WELL, LIKE I SD ABOVE, I THINK THE INVISIBLE IS JUST THAT, INVISIBLE. IT IS THE MAGIC IN THE PORTRAIT. THAT MAKES THE PORTRAIT WORK. THAT COMES FROM THE SUBJECT MUCH MORE THAN FROM THE PHOTOGRAPHER. IT IS WHAT THE PHOTOGRAPHER, ME IN THIS CASE, ALLOWS. THE ROOM I ALLOW. I AM VERY PERMISSIVE W/ MY SUBJECTS, THOUGH I AM IN TOTAL CONTROL. OR MAYBE NOT TOTAL. WHO IS IN TOTAL CONTROL. MOTHER NATURE. THE INVISIBLE IS THE CONTROL OF THE SUBJECT, THE SITTER. THE SITTER HAS TO GIVE THE PHOTOGRAPHER SOMETHING. OTHERWISE. NO PORTRAIT. ONE WAY OF SEEING THIS PHENOMENON IS TO LOOK AT SEVERAL PORTRAITS OF THE SAME PERSON BY DIFFERENT PHOTOGRAPHERS. THEN YOU CAN SEE THE INVISIBLE, IF THAT'S POSSIBLE, COMING FROM THE SUBJECT. HE/SHE GIVES IT TO SOME CIRCUMSTANCES, SOME PHOTOGRAPHERS AND NOT OTHERS. I JUST REALIZED THIS WHEN I WENT THROUGH PORTRAITS OF CREELEY W/ PEN CREELEY AND SAW THE RANGE OF BOBS IN THE PORTRAITS....AND WHAT HE GAVE TO CERTAIN PHOTOGRAPHERS, MYSELF INCLUDED. GINSBERG WAS THE RARE PERSON WHO ALWAYS GAVE HIS ALL TO THE CAMERA, NO MATTER WHO WAS BEHIND IT. HE WAS ALWAYS ON, IS A WAY TO EXPRESS IT. BUT HE WAS LIKE A PROFESSIONAL ACTOR OR MODEL IN THAT PARTICULAR WAY.

3. Appearances are important to you. Why?

WELL, APPEARANCES ARE SO INTERESTING. AND THEY CHANGE SO DAY TO DAY.AND THEY ARE SO EXPRESSIVE. EVEN UNIFORMS. AND OUR BODIES ARE SO INTERESTING. IN CLOTHES AS MUCH AS NOT IN CLOTHES. AND APPEARANCES, WE ARE TALKING MOSTLY CLOTHES....ARE THE DETAILS THAT PINPOINT THE WHEN, THE TIME OF THE PORTRAIT. I HAVE NEVER WANTED TO BE A SOUL CATCHER. TO CATCH MY SUBJECTS SOUL. IT JUST DOESN'T INTEREST ME. i AM THE KIND OF PERSON MORE INTERESTED IN GOSSIP THAN IN DEEP PERSONAL REVELATIONS AND SO, CORRESPONDINGLY, I AM INTERESTED IN APPEARANCES, SAY GOSSIP, THAN IN SOUL, SAY CONFESSIONS.....REVELATIONS. DOES THAT MAKE SENSE. IT HAS A LOT TO DO W/ ME AND MY COMFORT LEVEL W/ OTHER PEOPLE. THE LINE I DON'T WANT TO CROSS W/ OTHERS. i AM MUCH MORE FORTHCOMING AND OPEN AS A PERSON THAN I NEED OTHERS TO BE W/ ME.....AND i THINK IT IS UP TO MY SUBJECTS TO DECIDE HOW FORTHCOMING THEY WANT TO BE W/ ME. THEY HAVE THAT CONTROL. i M IN CONTROL OF THE PORTRAIT SESSION BUT I GIVE A LOT OF CONTROL TO MY SUBJECTS ON THEIR PRESENTATION OF THEMSELVES. I DONT CROSS THAT LINE. SO I STICK W/ APPEARANCES. AND I KNOW I GET MUCH MORE FROM THEM, SOMETIMES IN SPITE OF THEMSELVES. BECAUSE WE EXPRESS OURSELVES EVEN IN THE LINE TO GET AN EXPRESSO. WE ARE ALWAYS SOME ASJPECT OF OURSELVES. OF COURSE.

4.Could you define a good picture? And a bad one?

GEE WHIZ. IT TAKES A WHILE TO REALIZE / RECOGNIZE WHAT IS GOOD. I DONT LIKE GOOD AND BAD. I PREFER WORKS AND DOESN'T WORK. IS THAT OKAY. I FIND THAT IT TAKES ME AT LEAST A WEEK, MAYBE A YEAR, YEARS TO REALIZE SOMETHING WORKS. THAT IS WHY I DON'T THROW ANYTHING AWAY. HARD W/ DIGITAL PHOTOS REALLY. ONE THING I PERSONALLY DONT LIKE IS THE HYPER SATURATION OF DIGITAL PRINTING. AND I DON'T LIKE IMAGES THAT ARE TOO PERFECT. AND OF COURSE I DON'T LIKE IMAGES THAT ARE TOOOO PHOTOSHOPPED. THOUGH I AM A GREAT ADMIRER OF PHOTOSHOP I THINK NO ONE HAS REALLY STUDIED THE AFFECTS ON PEOPLE OF PHOTOSHOP. NOW YOUNG PEOPLE HAVEN'T SEEN UN PHOTOSHOPPED IMAGES AND THEY THINK EVERYONE IS HAIRLESS ON THE LIMBS, PERFECT IN HAIR, EVEN EYES. THEY HAVE THIS IDEA OF A STANDARD THAT DOESN'T EXIST. YOU CAN SEE THIS IDEALISM IN PHOTO PORTRAITS IN PORTRAITS OF OPRAH.......SHE LOOKS IN HER MAGAZINE LIKE SOMEONE FROM OUTER SPACE. NOT THE PERSON MADE UP ON TV. YOU EXPECT MAKE UP ON TV. BUT SOMEHOW PHOTOSHOP SNEAKS UNDER OUR RADAR. HARD TO SAY WHAT MAKES A PORTRAIT NOT WORK. I JUST KNOW IT WHEN I SEE IT. I THINK MOSTLY IT COMES FROMT HE SUBJECT NOT WANTING TO GIVE ANYTHING TO THE PHOTOGRAPHER. BUT IT CD BE OTHER THINGS......I WILL TRY TO FIND PORTRAITS I HAVE TAKEN THAT I THINK DONT WORK TO USE AS EXAMPLES OF THIS PROBLEM.

5.Your pictures are about relationships. Relationships have got cycles and develop in time. On the contrary a picture a one single moment instance of your sitters' life. What do you think about that?

YEAH. ISN'T THAT INTERESTING. YR ABSOLUTELY RIGHT. I HAVE ALWAYS FELT I CAN'T LAY TOO MUCH ON A PORTRAIT. I MEAN IT REALLY IS ONLY ONE SECOND. MUCH LESS THAN ONE SECOND. SO IF SOMEONE IS SCOWLING IT DOENS'T MEAN HE / SHE IS A SCOWLING NEGATIVE PERSON. JUST HOW HE / SHE WAS AT THE MOMENT. I DO THINK WHAT WE THINK ABT PORTRAITS CHANGES OVER TIME. THEY TAKE ON A WHOLE DIFFERENT MEANING AS TIME PASSES. LIKE I SAY I JUST WENT OVER PORTRAITS OF BOB W/ PENELOPE, AND NOW THAT HE IS GONE, THE LITTLEST THING IN THE PORTRAITS HAS CHARM AND MEANING. SO IN A WAY IT IS LIKE HOW A POEM CHANGES FOR SOMEONE, OVER TIME, OR A BOB DYLAN SONG. IT CD BE AT ONE TIME I AM DEAF TO A SONG AND THEN LATER, I THINK WOW, HOW COME I DIDN'T HEAR THAT. SO W/ A PORTRAIT THERE ISN'T ONE CONSTANT NOT CHANGING RESPONSE. THAT SINGLE MOMENT CAN TAKE ON A TOTALLY DIFFERENT MEANING. FROM NO MEANING TO WOW. BECAUSE THE PORTRAIT ITSELF DOESNT CHANGE, IT IS EASY TO FORGET IT WAS JUST A S PLIT SECOND. SOMETIMES OUR SPLIT SECONDS ARE VERY REVEALING. SOMETIMES NOT. AND SOMETIMES THE SPLIT SEOCNDS ARE HUMOROUS.....OR REVEALING, AND WHY NOT.....BUT YES, IT IS EASY TO READ WAY TOOO MUCH INTO A PORTRAIT AND TO FORGET IT WAS A SPLIT SECOND........I DO ESPECIALLY LIKE THE SECTION OF MY SITE OF PORTRAITS OF PEOPLE I HAVE DONE OVER TIME. I HAD CALLED THIS SECTION THE FAMILY SHOW AND NOW I HAVE A HIP NEW TITLE: PEOPLE . ONCE!!!!!!!! I AM VERY INTO RELATIONSHIPS. MAYBE BECAUSE IT IS SIMPLY MUCH EASIER W/ MY CAMERA TO DO A PERSON W/ ANOTHER PERSON THAN A PERSON ALONE. THOSE ARE VERY HARD TO DO. THE PERSON IS REALLY ALONE AND HAS JUST THEIR OWN RESOURCES.

6. How do you deal with this contrast?

I JUST LIVE W/ THE FACT MY PORTRAIT IS A SPLIT SECOND REPRESENTATION. I DONT PROJECT TOO MUCH INTO MY PORTRAIT. I THINK OF IT AS A MOMENTO. SOMETHING THAT BECAUSE OF MEMORY CARRIES A LOT OF BAGGAGE. IT ISN'T JUST THE PERSON'S MOMENTARY WINK.....IT IS WHAT THE WINK MAKES ME THINK AND REMEMBER. SO THE PORTRAIT IN A WAY OVER TIME BECOMES A TALISMAN ......JOGGING MY MEMORY.....I THINK IN A WAY PORTRAITS DONT TAKE ON MEANING UNTIL THE SUBJECTS DEATH.....OR LESS STARK, UNTIL SOME TIME HAS PASSED. THEY REALLY NEED TIME. OF COURSE ISN'T THIS WHAT BARTHES SD????? ALSO, IT MUST HAVE SOMETHINGTO DO W/ PORTRAITS BEING ON PAPER!!!!! HANDLING FEELING THE PAPER. THE PAPER CHANGING. I CAN'T FATHOM WHAT IT WILL BE LIKE FOR KIDS GROWING UP NOW WHO LOOK AT OLD PORTRAITS ON THEIR COMPUTER MONITORS......THAT WILL BE A DIFFERENT TAKE ON THE EXPERIENCE. OF COURSE THE NEED TO TOUCH, HANDLE A PORTRAIT HAVE IT NEARBY, ABLE TO BE MOVED, CARESSED MIGHT BE WHY PEOPLE IN HUGE NUMBERS ARE PRINTING THEIR DIGITAL PRINTS. DIGITAL IS MAKING A WHOLE NEW WORLD AND OUR VOCABULARY WILL HAVE TO ACCOMODATE IT.

MY WORK IS MOSTLY ONE OF A KIND AND THAT IS SO ANTI DIGITAL IN EVERY WAY. AND OF COURSE IT IS DYING....
---

(elsad@comcast.net)