Pals: Boys Who Grew Up Together
---
Aldo: You know in this picture, I'm a bit taller than Isaac, but for the next maybe seven years, we would go back and forth. He's a little taller, then I'm a little taller, and so forth. I think this was the age when Isaac and I began to become friends. We both had other, closer friends, but we began to hang out more and more.
Eugene: Isaac And Aldo (Probably 1988) -- Aldo looks mighty cool with his shorts on the outside of his pants. And yes, good old CYS (Cambridge Youth Soccer), I started playing with Aldo, Zephyr and Eliahu Susman to do something after school at Hoyt Field and everyone else was doing it (except Isaac), so I figured what the heck. I began to love it and we had a championship team. I met and had many friends on Abraham's team over the years and went on to play soccer at Commonwealth, I got pretty good at it and started every game in high school since my freshman year.
Isaac: A few interesting things going on in this picture. First of all, Aldo's wearing a soccer shirt and I'm not wearing glasses. These two facts may seem unrelated and unimportant, but I now believe that they had a major effect on my relationship with Aldo: At this age, Aldo was all about sports. He played basketball and soccer all the time with his friends. I never played sports. Why? BECAUSE I COULDN'T SEE! Or maybe I just wasn't athletic. At any rate, my not playing sports put a real distance between us. That's why I'm surprised that we look so chummy in this photo. Go figure. Eventually, Aldo and I became the closest of friends. One other thing, notice that Aldo's wearing shorts over his pants. You really have to wonder about that.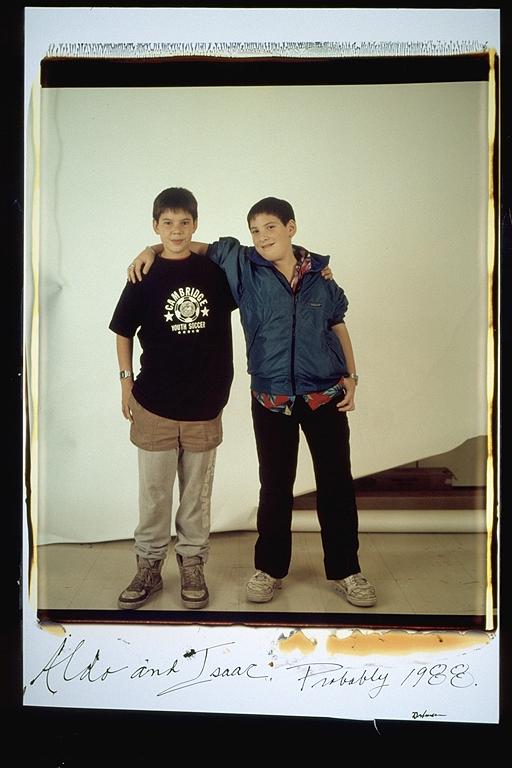 ---
elsad@comcast.net